Ride To Stop Diabetes - Join Our Tour de Cure Team!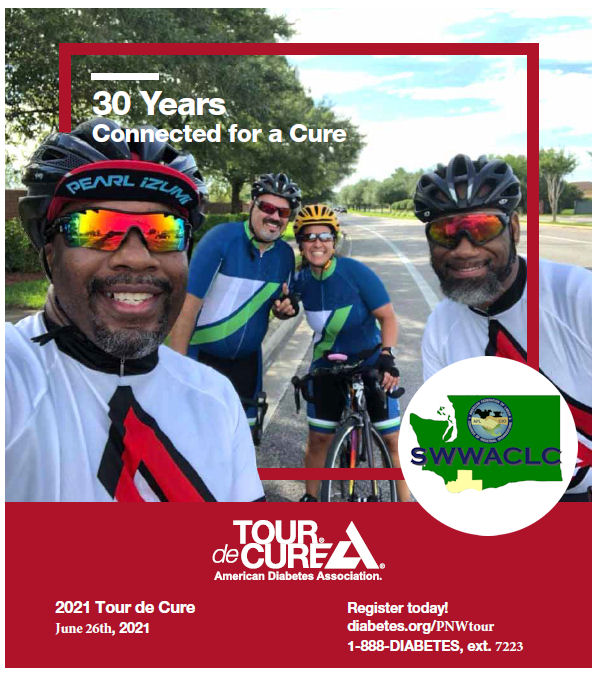 UPDATE: Bravo SW Washington!
Thanks to your donations (and the work of our Tour de Cure - Pacific Northwest team) we raised over $1000 to help the American Diabetes Association's efforts to support our fellow working people with Diabetes!
A special thank you to our team members:
- Harold Phillips (PORTLAND LOCAL SAG-AFTRA)
- Shannon Myers (Woodworkers W536 IAM)
- Valerie Sinnamon (AFSCME Local 328)
- Rose Etta Venetucci (IATSE Local 28)
You helped us break through our fundraising goal - but you can donate any time at http://main.diabetes.org/goto/swwaclc
And remember... we'll be putting together a team for NEXT YEAR's event (which will likely be an in-person ride in Hillsboro Oregon) so keep on riding and walking to get ready for 2022!
Ride (or Run... or Walk...) To Stop Diabetes
Join Our Tour de Cure Team Today - Click here!
According to a 2019 report by the Washington State Department of Health, about 682,600 adults (or 1 in 8) have diabetes in Washington state. We know that many of these Washingtonians are working people right here in SW Washington, and that's why we're supporting the American Diabetes Association's efforts to find a cure by sponsoring a team in the 2021 (Virtual) Pacific Northwest Tour de Cure!
Make a difference for your friends and family and fellow workers who are dealing with this disease by joining our Tour de Cure team today - then, raise funds for the ADA and get ready to ride, ride, walk or run on Saturday June 26!
Remember, this year's Tour de Cure is VIRTUAL! That means you can ride, run or walk in your own neighborhood and share your progress with our team (and your friends and family) online! Be sure to tag @SWWACLC on Facebook, Twitter and Instagram, and use the hashtags #TourdeCure, #TOURTURNS30, and #CONNECTEDFORACURE in your posts!
Be sure to download the Tour de Cure app from the Apple Store or Google Play Store to help track your progress, and your activity through Strava.
Questions? Contact Team Captain Harold Phillips at harold@haroldphillips.net!
Don't feel up to riding, running or walking? You can still make a difference for working people in our region living with diabetes by making a donation to the Labor Council's team. Please spread the word, and encourage your Locals and rank-and-file members to participate as well.
Organized Labor is all about working people coming together for a common goal... We're looking forward to seeing you (virtually) on the trail as we ride, run and walk to stop Diabetes!